bride & groom bed!
u guys dont know how messy soo messy my room the night before my solemnization ceremony! bersepah gila, my families ramai then all room and empty space was occupied, semua ruang penuh! and malam tu pulak ada tahlil, berderet2 events..
and so u know kakak besar yg deco my hantaran, so dulang kene bawak naik atas, so mmg penuh in my room, plus nak iron alas dulang semua dalam bilik, mmg pening.. nak upload gambar before pun seram, haha.. sampai org yg datang malam tu asik2 tanya je, apsal bilik camni, apsal tak kemas, leteh mak nak jawab.. dah la dengan tak sihat, plus it was back to back event, so nak start deco hantaran pun tak boleh, semua trapped dalam bilik.. my only hope is my pengapit, jedah, ive been constantly reminding her weeks before my wed day that she have to takeover all stuff from me once shes in kl, and she nailed it! love you!
but anyway, bilik berkonsep minimalis, sangat humble, what i have is queen divan bed, itu hadiah from ayah.. cat bilik warna soft purple (ayah) then damask stand lamp (adlie belikan) the 1 black console table (from ayah) and 1 white stand mirror (from ayah), white jean perry king bedding set (beli sendiri. sangat affordable! beli masa member day sogo. pagi2 dah terpacak) and white tafetta langsir (night curtain) and white organza (day curtain) both beli and tailor by kamdar.. itu sahaja.. cupboard/closet i dah buang dia keluar, haha.. gila! bilik i sangat square and kecil, i have to move it keluar sebab nak centerkan katil.. so simple je..
then i bought 2 bantal kecil warna purple dekat carrefour wangsa maju to match the wall color..
paling like, i bought orchids untuk deco, was inspired by kakak besar's choice masa her wedding, she chose orchid for flower girls to throw.. so this time i beli juga the same, from petaling street 1 bundle rm18, banyak! enough for deco and for bridesmaid.. and me & jedah malam tu berhempas pulas susun mcm menyerupai bed runner, haha..
i always wanted bed runner, lacey bedrunner, ingat nak buat la konon, beli kain n ask mak jahit tapi tak terbuat2, so got an idea, so we just susun orchid, lotsa orchids kat kaki katil, jadilah mcm bedrunner.. :) siap2 susun kemas2 bilik dalam pukul 2 pagi kot, dah la esok tu nikah, pasang aircond full blast so dia segar lagi..
okay, ini sedikit deco untuk penyangkut curtain, sebab rasa kosong sangat, dah warna putih pun kan curtain tu, so masa pegi jalan tar ari khamis, okay khamis masih ke jalan tar, i kan duta jalan tar, 2 hari sebelum nikah tu! haha.. gila.. beli lacey ribbons then diy, mcm mana? jahit? oh tidak, i staple je lace tu kat penyangkut tu, staple senang, nak jahit mmg tak sempat, alang2 nampak staple terus je tembak, siap! lagipun okaylah tak nampak pun staple bullet nya, this is just to have something simple yang membezakan penyangkut tu from curtain..
then add up some bunga sebab serious bilik agak kosong, okay lari color, buat it was stood out! haha alasan baik! guna gerberas, leftovers from my hantaran yg kakak besar deco, so potong letak dalam vase from ikea then letak atas console table.. sebab bilik takde side table, selalu letak bunga kat side table kan tapi sebab takde so letak kat console table je..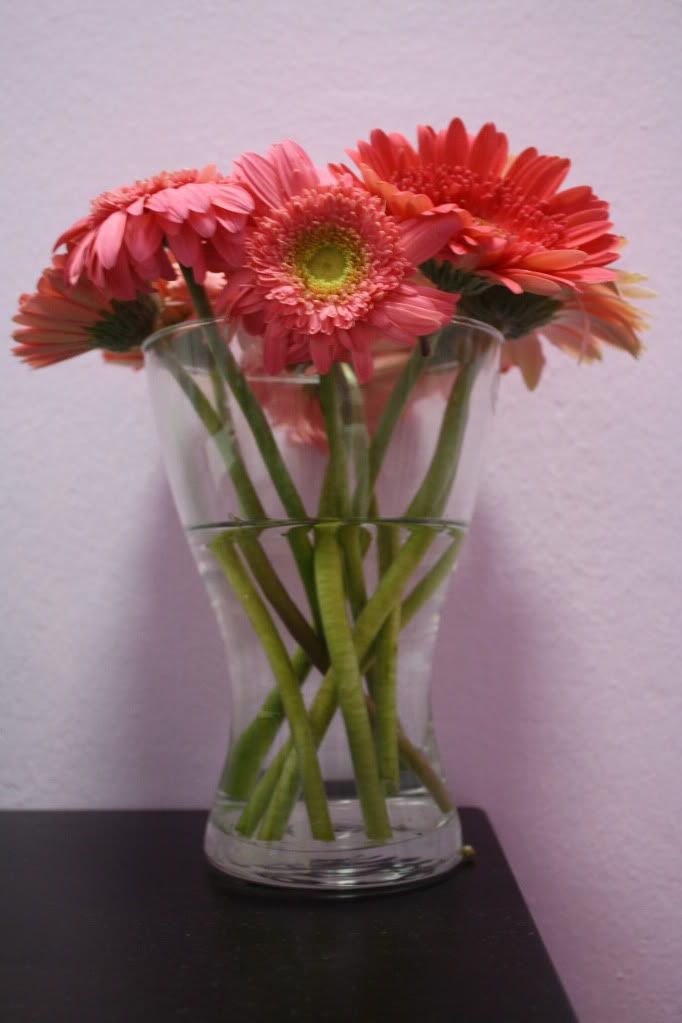 pink gerberas!
and not to forget, chalkboard, haha.. tq aleen!
console table, stand mirror, carpet bulu2 (rina's), stand lamp will be updated separately, sebab takde gambar mereka sahaja, semuanya ada org.. so will mention bout it later.. at first i hate everything that i have for my room, cos i nak white set for bedroom (set as in katil, dressing table, closet, side table) but masa beli ayah tak bagi beli perabot kayu, cos budget dia tak banyak so kalau beli perabot kayu bila tak banyak budget we couldnt get yang jenis tahan lama, kalau ada pun yg masuk budget i know dalam setahun dah rengang dah katil dia, i beli pun kat kedai perabot maju setapak, kayu dia bukan jenis tahan lama, so ayah insist beli divan, cos mmg tahan lama, so u know divan mmg tak byk choice langsung, putih punya headboard mmg takde, either cream or beige, with weird design i hate it!
then i saw this black headboard, velvet touch & diamond, memang superb and sangat cantik cuma rasa mcm tak match je, suddenly went black over white, whats up? then angah kata amik yang ni jelah (tq angah sebab ko push aku, haha) cos he was there with me and ayah, and he saw that i was at that very moment giving ayah a very hard time, haha, tunggu masa je nak kene marah sebab fussy sangat.. or mmg dah kene marah pun cos i dah giveup i said to him just gimme ur divan bed, as in my parents katil untuk my bed kat bilik pengantin, sebab katil diorang baru lagi and i like the white headboard, and mmg tak kisah using the old katil, bukan org tauhu, no prob, terus kene marah bla bla bla.. haha.. akhirnya so i chose katil ni, and bila sampai harinya, i love it to the max! thos it is black color, mcm unusual for bilik pengantin.. but in the end it looked nice and simple.. i like it cuma at first was torn between because of the color, black kan, mindset dah white..

then sebab divan bed dia bukan sold together 1 set with everything mcm meja solek, side table, so the other day we went back to kedai (kedai perabot maju, setapak) for meja solek.. and i dont want to have side table sebab malas nak membazir.. and okay since divan bed i dah rupa mcm tu, how on earth i could find a seperate dressing table that match with my bed! no way ada, kat kedai perabot maju banyak meja solek warna kayu, coklat, i couldnt afford to have 1 lagi color, enough la black purple and white, no room for additional color.. so what i have in mind, to have just a console table instead of dressing table and then beli chair and stand mirror, my idea then ayah tak accept, haha.. lepas tu aku pun tgk la dressing table yang stiff je aku rasa, kaku okay.. serious with the same price i better take console table, stand mirror and chair, so then beli as per my idea.. love it! simple je n senang, black console table, black damask chair (pilih from one of meja makan punya set, i beli 1 chair separately aje) and white stand mirror to replace the usual meja solek.. yay! setel..

so thats the story of bilik pengantin.. or room for 2, cos bilik pengantin mcm tak sesuai je, sangat simple.. even maklong pun cakap tak beli bunga ke letak tepi katil, then i said takpelah, ini pun dah cukup, hehe.. u know aunty aunty.. but anyway i love my room and to make it look beautiful like this, my bro's room sume sepah sebab i tumpang brg i, hihi, love u guys n im soo sorry sebab i have to penuhkan brg kat bilik korang! haha..
where do we sleep that night me & jedah? atas lantai la, haha, sanggup ni, sebab dah kemas kan lawa2, amik my super single comforter, bentang buat tilam, then kepala pusing nak guna ape as selimut, air cond dah full blast sebab nak bg bunga fresh, so masuk bilik sebelah amik 2 helai bedsheet i, buat selimut pakai bedsheet, haha, sempoi je.. nama dah darurat.. :) im a survivor! haha gila..

oh ya bunga rampai? ada.. mesti la ada, seawal hari rabu dah ada and letak kat bilik, sebab sangat sangat mengsemangatkan i yang sakit untuk terus berjuang demi merealisasikan semua impian perkahwinan i, hehe..
and know what, in the end the best part of all is to have adlie safe and sound with me that night by my side.. sooo unbelieveable..

panjangnya kan? a good sign, im back! haha.. i have doubt at 1st but im back.. :)